Sixteen year old Gilad Veturi collapsed during running practice and died two days later. He had just completed a 60-meter sprint. Gilad was an excellent athlete in perfect health. Doctors are unsure if he died from a brain aneurysm or an irregular heartbeat.
Gilad's parents decided to donate his organs to save the lives of others. His heart was given to a 56-year-old man, his lungs were transplanted into two men ages 63 and 67, his liver was given to a 64-year-old woman, one kidney and his pancreas were given to a 36-year-old woman, and the other kidney went to a 24-year-old woman.
The surgeries took place at the Rabin Medical Center in Petach Tikva and Tel Aviv's Sourasky Medical Center.
Israel Transplant director Dr. Tamar Ashkenazi said: "Gilad's parents represent the beautiful Israel. They are people who give, who are ready to help others and who, at a time of distress and terrible personal tragedy, are able to think about saving lives and giving organs."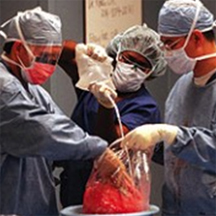 Originally from here
Posted on Shalom Adventure by: Barbara Zaremsky